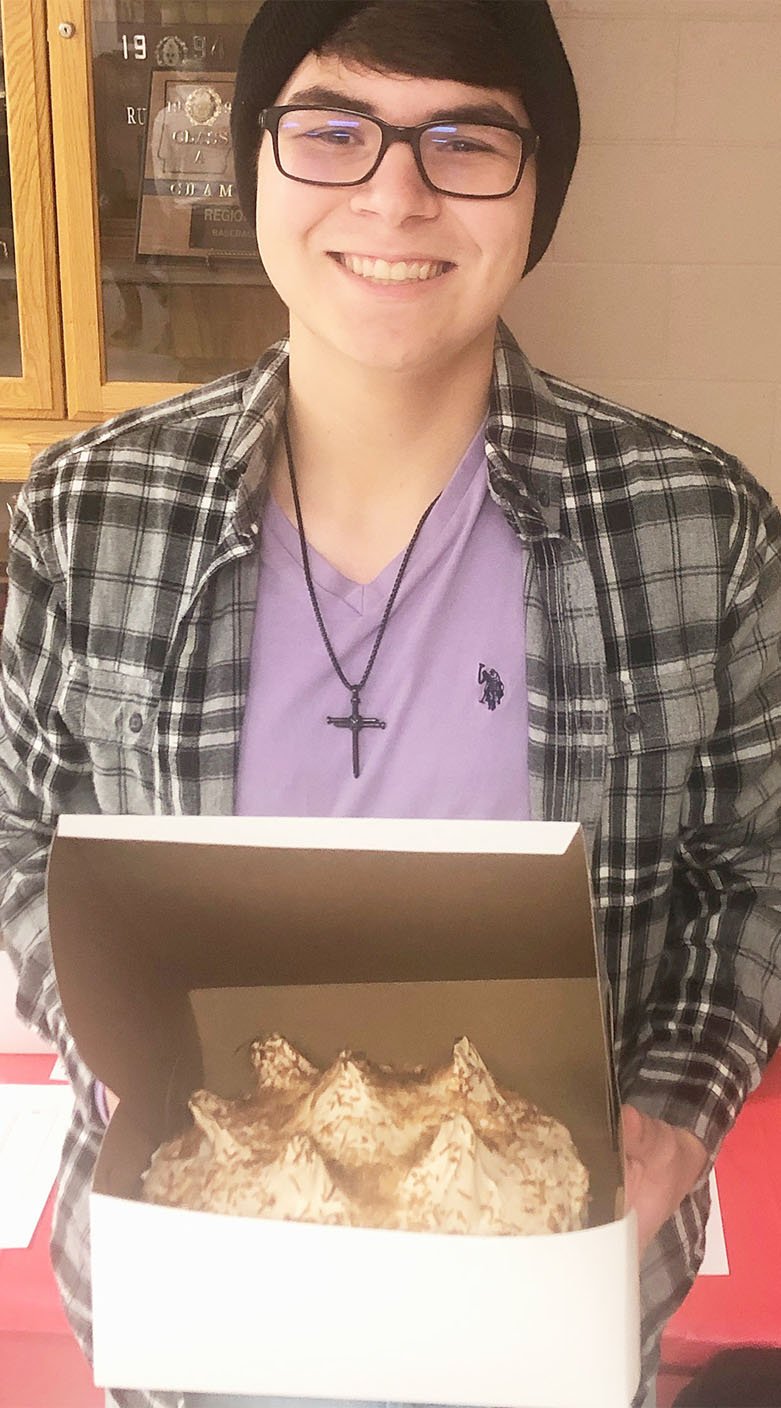 Pea Ridge High School senior Jaden Hyman was recently diagnosed with cancer and fellow students and community members hosted a silent pie auction Friday, Feb. 7, during the Colors Day games in Blackhawk gym as part of the fundraiser him and his family. More than 80 desserts were donated for the auction which raised more than $5,000.
Community.
Family.
Those words stereotypically engender sentimentality, feelings of acceptance and safety.
(I am aware that some people come from such a dysfunctional, painful family environment that those words elicite trepidation, fear, anger. But, traditionally, community and family have provided safe havens.)
Recently, families in the Pea Ridge community have faced tremendous trials and fellow community members have risen to the occasions offering solace, comfort, and practically helping with fundraisers.
Last month, a teen-age boy died unexpectedly. The community, school students, staff and many others rallied around the family offering words and acts of kindness to help them in their grief.
Another young man has recently been diagnosed with cancer and following surgery, will receive treatments to eradicate that disease. Hosting a silent pie auction, the community raised more than $5,000 to help his family in this battle. More than 80 desserts were donated to the auction.
That's community. That's family.
Family isn't always just blood related.
Helping others is essential and is beneficial to both the giver and receiver.
The people of the Pea Ridge community are great givers. There are several food pantries, benevolence ministries and other charitable organizations. There are civic clubs designed to help others. And, there are many individuals who give when made aware of a need.
Whether you're new to the community or you're a fourth-generation native, embrace the community that is now. Be a giver and bless others whose paths you cross.
•••
Editor's note: Annette Beard is the managing editor of The Times of Northeast Benton County, chosen the best small weekly newspaper in Arkansas for five years. A native of Louisiana, she moved to northwest Arkansas in 1980 to work for the Benton County Daily Record. She has nine children, five sons-in-law, nine grandsons and three granddaughters. She can be reached at [email protected]
Editorial on 02/12/2020
Print Headline: Community provides comfort, support
Sponsor Content
Comments